We had an order, recently, for a fish cupcake cake and corresponding smash cake for yet another first birthday party. ?The customer sent us a link to this cake she found asking us to make it larger, serving 50 people…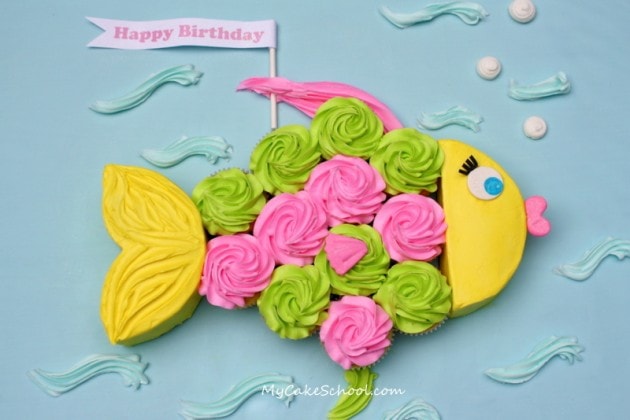 While doing some planning in my head, I was having trouble getting an image in my mind of how the shape of the fish's body would change as I added more cupcakes into the mix. ?I didn't to wait until crunch time, playing musical cupcakes the day of delivery, so I came up with the idea to make the plans using pennies. ?They're round like cupcakes, but easier to play with in advance.
I started with the same pattern that the example picture gave me…
I then kept adding pennies until I got a desired size and number of "cupcakes…"
This brought me to 40 cupcakes. ?Adding on an 8 inch round cake which would be cut in half for the head and tail of the fish, I knew I'd be good to go to serve 50 people. ?When delivery day came, I was able to quick get the cupcakes on the board and move forward with the decorating!
I then cut the 8 inch round cake in half, placed both halves on their own cake boards, iced the halves (adding texture to the tail with the use of a butter knife), and set them alongside the body.
In order to get the specific design requested by the customer, I used the help of the blog he sent me with the original image. ?(You can visit that blog here for the detail on how to create the fondant accents.)? I added the fondant pieces for the face and our fish was complete!
Now it was time for the smash cake! ?Using similar techniques as I learned in the previously mentioned blog, I created fondant accents to bring this jumbo cupcake to life.
They look pretty cute together, if I do say so myself. ?What do you think!?